2021 Road to Indy USF2000
The Cooper Tires USF2000 Championship debuted in 2010 and is a continuation of the highly regarded USF2000 series which ran from 1990 through 2006, launching the careers of many of today's top drivers. Sanctioned by INDYCAR, the series is the first official step on the Road to Indy Presented by Cooper Tires – a clearly defined path to reach the top echelons of the sport. In addition to providing a vital training ground for rising stars, the series champion will earn a scholarship package to advance to the Indy Pro 2000 Championship Presented by Cooper Tires, the next step on the ladder system.
The 2020 USF2000 champion will receive a scholarship valued at $328,225, guaranteeing a full season contract with an Indy Pro 2000 team of the driver's choice including all 2021 race and test events, entry and test day fees and allowable number of sets of Cooper tires. The scholarship value will be increased to include an Indy Lights test at the conclusion of the 2021 Indy Pro 2000 season.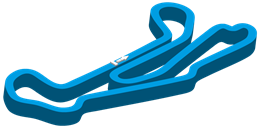 Streets of St. Petersburg
New Jersey Motorsports Park